Bar wine cabinet refers to the cabinet specially used for wine storage and displays in the bar. The general wine cabinet uses a combination of electronic, wood, PVC, and other materials, and the amount of wine stored is relatively large.
So it is specially used for wine storage in bars. Generally, we divide wine cabinets into trendy wine cabinets, electronic constant temperature wine cabinets, wine storage cabinets, European style wine cabinets, dual-temperature wine cabinets, etc. Each type of wine cabinet has its own performance and characteristics.
Illuminated wine cabinets are divided into practical and decorative types according to their functions. They effectively save space and bring a lot of inspiration and creativity to the bar environment. Its product categories are complete and the materials are carefully selected. The craftsmanship keeps improving so that the bar creates a warm and luxurious feeling.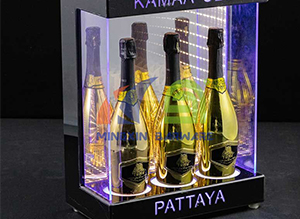 Illuminated Wine Cabinets
Beautiful wine cabinet design
1. The led Wine cabinet for bar china does not need a very large wine storage space, but it must be exquisite and beautiful. This metal door handle is light and luxurious, and it comes out immediately with transparent glass. Full of beauty. Become a beautiful landscape in the home.
2. The simple and atmospheric wine cabinet always has a unique attraction. It abandons the complexity, does not require excessive decoration, and the simple design makes the wine cabinet look generous and beautiful. The warm gray door panels are more atmospheric and show the owner's aesthetic taste.
3. Acrylic hazy glass always gives people a mysterious warm yellow embellishment, low-key and lively. The beauty in life is mostly carefully designed, and such a wine cabinet is more natural.
4. A stylish wine cabinet is not limited to wine storage, it can also be used as a display area and book collection. One thing is multi-purpose, in line with the current shopping needs of consumers, and can capture the hearts of consumers.
5. The wine cabinet is matched with a small bar counter, romantic, casual and comfortable, making life so comfortable
6. It's not just because I like it, but it can make people feel soothing and refreshing in this noisy city.
7. A large wine cabinet and a variety of storage spaces are sufficient to meet the owner's needs for fine wine collection.
8. The dignified and atmospheric wine cabinet creates a low-key, light luxury feeling and is quite elegant and delicate.
9. Simple line carving, coupled with this wine cabinet, has a kind of American aristocratic temperament.
10. The chic dining side wine cabinet creates a casual and romantic atmosphere overall.